Over the years, new equipment and machinery have led to greater agricultural industry productivity. Seed tenders are one such piece of equipment, allowing for bulk quantities of seed to be directly fed into planter's boxes or center-filled hoppers. For farmers, seed tenders reduce the downtime for planting, which is especially helpful during short planting windows.
The Benefits of Seed Tenders
Easy Transfer of Seeds – Seed tenders allow for the quick and effortless transfer of seeds into a planter
Bulk Seed Carrying – You can carry large amounts of seeds, reducing the need to stop and refill planters
Durable – Our machines are heavy built units, offering greater longevity and durability over competitor's seed tenders
Our Seed Tenders' Features
Adjustable Unloading Speed – The power of the auger can be adjusted to match a wide range of unloading speeds without damaging your seed
Seed Capacity Options – Our seed tenders are available in a two box and four box size, with each increase in size contributing to the total seed capacity of your machine
Automation Features – Product options for remote control, auto-dispensing, and self-filling features are available, simplifying the operation of seed tenders
High-Quality – We only use the highest quality components for all our fabricated products
Locally Made – Our machines and their components are manufactured and assembled on site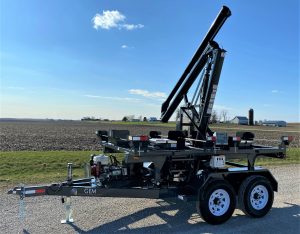 Call Today
Simplify the planting process with the help of high-quality seed tenders manufactured and assembled in Roanoke, IL, by GEM Manufacturing. To learn more about our other products and services, contact us at 309-923-7312. Also, we are located at 1503 W Front St, Roanoke, IL 61561.