Manufacturing facilities and warehouses work on all levels. By this, we mean literal height levels! Whether on the assembly line or storing equipment, you need to be able to work safely at any height. Thus, the use of industrial work platforms is crucial to your business. Ensure you're reaching the heights you need to with custom work platforms designed and assembled by GEM Manufacturing.
The Benefits of Custom Work Platforms
Increased Safety – For any industrial facility, safety is a top concern. And when working on an assembly line, it's crucial to stay safe while performing your job. As such, our custom platforms allow workers to easily access equipment at numerous heights while ensuring they stay on a safe, stable, and level surface.
Simple Integration – There's no struggle to fit your work platform into your assembly line. GEM's platforms are precisely designed to your facility's space requirements, enabling simple integration onto any manufacturing floor.
Improved Productivity – Instead of employees wasting time moving ladders back and forth to reach elevated positions, work platforms allow for easy access to any area of your facility. Thus, your facility's productivity is significantly improved.
Our Work Platforms' Features
Fully Customizable – Our work platforms are fully customizable, meeting our clients' exact specifications. We design and assemble platforms to fit your facility's precise needs. Additional custom features include rolling or stationary, hydraulics, height adjustment, and more.
Easy to Move – Instead of constructing permanent fixtures throughout your facility, custom platforms can be easily moved, changed and rearranged. When the operations in your facility change, so too can the platforms you use.
High-Quality – We only use the highest quality components for our fabricated products.
Locally Made – Our machines and their components are manufactured and assembled on site.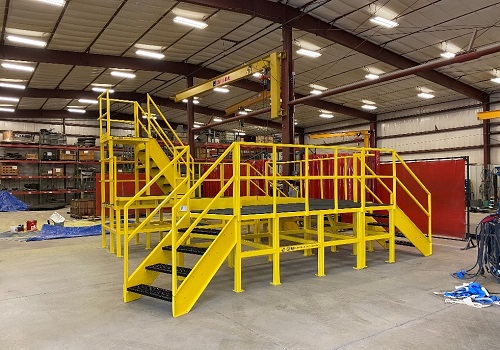 Call Today
Ensure your facility is functioning at maximum efficiency with custom work platforms designed and assembled by GEM Manufacturing. To learn more about our products or services, contact us at
309-923-7312. Also, we are located at 1503 W Front St, Roanoke, IL 61561.