Are you looking for a low-cost solution to transport parts, products and equipment between internal plants or external vendors? GEM Manufacturing produces customizable returnable packaging for businesses looking to simplify the movement of goods throughout their facility. Our returnable packaging is stackable, collapsible, and can optimize your company's shipping capabilities.
What is Returnable Packaging?
Returnable packaging includes a wide selection of packing and shipping products, including reusable pallets, bulk containers, racks, hand-held containers and more. All returnable packaging products are durably constructed, reusable and highly versatile. Standard returnable packaging is made from either metal or plastic, with plenty of options for customization.
Returnable Packaging's Advantages
Reduced Costs – There are plenty of costs that come with one-way packaging. Worse yet, standard shipping materials aren't reusable and get thrown out! Returnable packaging ensures you don't need to repurchase shipping materials continually. While you'll pay a little more upfront, returnable packaging can save you on packaging costs in the long run.
Environmentally Friendly – For those concerned about the environmental impact of their facility, returnable packaging is an excellent alternative to traditional packaging. By using returnable packaging, you eliminate extra waste associated with standard shipping supplies. And in reducing your waste output, you also reduce your environmental footprint.
Improved Protection – Your standard shipping materials aren't always the most durable. Especially for shipping across long distances, your products can become damaged in transit. Conversely, returnable packaging utilizes long-lasting and durable materials. This means the products and parts you transport have greater protection with returnable packaging.
Safe and Clean – The sleek design of our returnable packaging includes easy-to-grip surfaces and handles, unlike traditional packaging. Additionally, returnable packaging is easy to stack, collapsible for storage, and cleaner than other shipping solutions. Overall, returnable packaging is safer to handle, easier to organize, and the cleanest shipping option available.
Simple and Low Cost Repair or Modification – Whether it is an outdated rack or a rack that was damaged in the process, we can bring those racks on site and make the necessary modifications or repairs.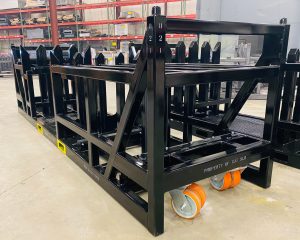 Call Today
With ongoing supply chain issues, it's crucial to maximize your space, protect your products, and eliminate exposure to significant issues. Thus, facilities are ditching standard, one-way packaging and instead investing in the future with durable and sustainable returnable packaging made by GEM Manufacturing. To learn more about our products or our services, contact us today at
309-923-7312. Also, we are located at 1503 W Front St, Roanoke, IL 61561.