GEM Manufacturing strives to meet the needs of any industrial facility. We offer custom contract manufacturing for companies that lack the in-house capabilities or wish to meet client goals in a timely manner. From sheet metal fabrication to laser welding, our team provides a wide range of manufacturing solutions, all in-house and locally done. Moreover, you can expect the parts and products we produce to be the highest quality.
What We Do
Sheet Metal Fabrication – Whether steel or aluminum, we can form metal into any design you desire. Using 11 to 18 gauge sheet metal, our fabrication experts can provide laser welding, bending, shearing, punching, and other operations to create your ideal part or assembly.
Assembly Fabrication – GEM Manufacturing can help finalize your metal fabrications. We provide hydraulic, pneumatic or electric assemblies to give your final product the functionality it requires.
Design – Do you have an idea for a part or fabrication but don't know how to go about designing it? Allow GEM Manufacturing to lend a hand. Our design experts can refine your ideas, create prototypes, and bring your final product to fruition.
Shipping & Delivery – Once GEM has helped manufacture your fabrication, our work doesn't stop there. We offer logistic capabilities such as packaging, shipping and delivery of your products.
The GEM Advantage
Everything In-House – We provide the full range of manufacturing services in-house from the initial design phase to production to delivery. Rather than outsourcing your manufacturing needs to multiple companies, GEM has you covered.
Complete Customization – Our experience in metal fabrication has enabled our team to design and manufacture all types of products and assemblies. We can provide complete customization to meet your preferences no matter your design.
High-Quality – We only utilize the highest quality metal and materials when assembling your custom fabrications.
Local – All our manufacturing operations are conveniently located out of our facilities in Roanoke, IL. We're your best local option for those requiring custom manufacturing in Central Illinois and throughout the Midwest!
For Small to Mid-Sized Companies – While other manufacturers require you to order products by the thousands to meet minimum requirements, GEM does not. We look to fill the void for those clients that might only need 100-200 parts per year.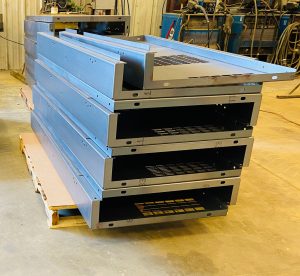 Call Today
Meet the fabrication needs of your facility by outsourcing your contract manufacturing to GEM Manufacturing. To learn more about our additional products and services, contact us at
309-923-7312. Also, we are located at 1503 W Front St, Roanoke, IL 61561.