The daily operations of your warehouse or manufacturing facility can quickly become overwhelming. Furthermore, the number of materials, parts and products you must haul or transport can become too much to handle. Thankfully, GEM Manufacturing designs and builds multiple cart solutions to assist with the movement of materials throughout your facility. Allow GEM to meet the productivity needs of your company with versatile, durable and long-lasting carts.
Cart Types
Static Cart – A basic cart design can be pulled manually or by an Automated Guided Vehicle (AVG) or tugger. These carts vary in size and typically consist of a handle/hitch, basic frame and base.
Mother Daughter Carts – A cart system designed to be pulled by a tugger or AVG. The mother cart features a large frame that houses smaller delivery carts, called daughter carts.
Turn Table Carts – A cart with the ability to rotate its base on its frame. These carts can either be pushed manually or pulled using a tongue and hitch combo.
Quad Steer Carts – These carts are primarily designed to be pulled by an AVG. The cart allows for four-wheel steering, enabling smooth turning with additional carts attached.
Tilt Carts – A cart that consists of a tiltable frame. Containers of varying sizes can be placed in the frame. The tilt cart enables operators to easily empty the cart's contents using hydraulic cylinders.
Transfer Carts – A cart equipped with a conveyor roller top. Transfer carts can be used in conjunction with other carts to quickly and easily move loads from one cart to the next.
Additional Carts – GEM Manufacturing crafts unique and custom carts to meet the specific needs of our clients. Every cart is smartly designed, utilizing tongue and hitch style and available to use for a wide range of weight capacities.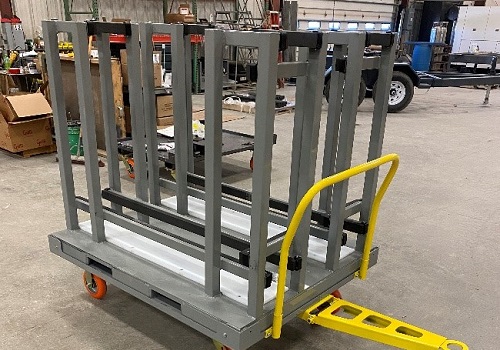 Industrial Cart Features
Ergonomic – Carts significantly improve the productivity and mobility requirements of any facility.
Versatile – Carts can transport a wide range of products, materials, parts and other goods.
Safe – Carts allow employees to quickly and safely transport materials long distances.
Customizable – GEM Manufacturing likes to think "outside the box." We design carts with the specific needs of our clients in mind. Our carts come in all types, with numerous options for customization.
High-Quality – We only use the highest quality components for all our fabricated products
Locally Made – Our machines and their components are manufactured and assembled on site
Call Today
If looking to improve the productivity of your facility and keep your employees safe and happy, an investment in industrial carts is your best option. To learn more about our carts or GEM Manufacturing's other products and services, contact us today at 309-923-7312. Also, we are located at 1503 W Front St, Roanoke, IL 61561.